Top 5 Digital Marketing Courses in Uttarakhand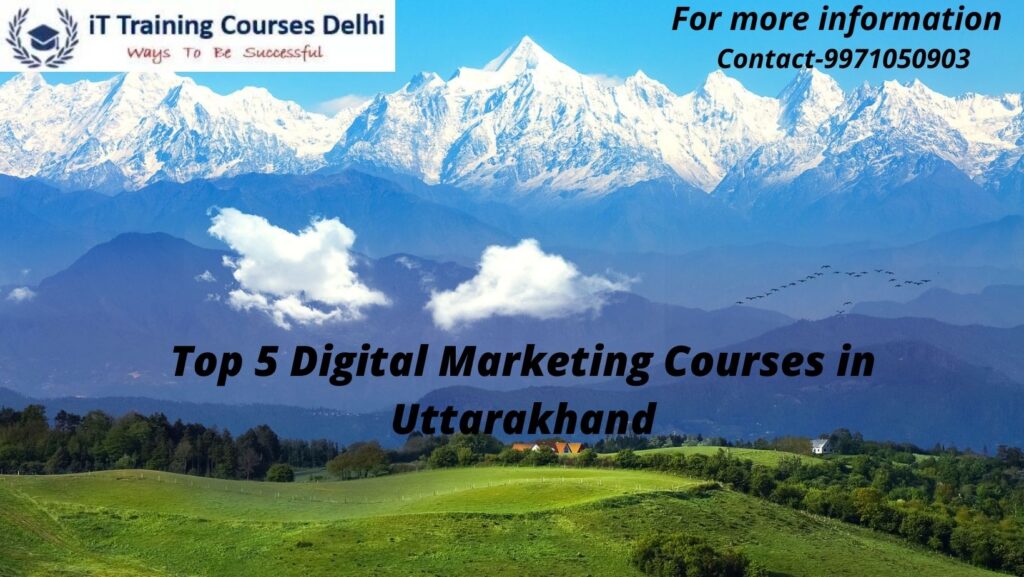 Introduction
Digital Marketing is rapidly becoming one of the most used marketing strategies in the world. This article will provide you with details about the Top 5 Digital Marketing Courses in Uttarakhand. But before we dive into the blog let's first discuss Digital Marketing and the scope in this industry. Digital Marketing is as we discuss is one of the most trending yet successful career options. With the increasing use of the internet, the career opportunities in this field are increasing which can be very beneficial for you. The desire to learn specialized knowledge is also increasing in a city like Dehradun. The need for proper training in digital marketing has become imperative in a world where even small businesses realize the power of digital.
Thus in this blog, we shared some of the Top Digital Marketing Courses in Uttarakhand.
ITTCD (IT Training Course Delhi)
ITTCD India is on number 1 in our list of Top 5 Digital Marketing courses in Uttarakhand. Getting an online presence for your business is easy with ITTCD since you can learn 48 different modules here and choose from various career options. You can learn different types of modules like (SEO, SMM, PPC, Content Marketing, Affiliate Marketing, etc). Our institute also has taken a step forward in this pandemic situation for the students who cannot take classroom training. Our online training mode includes all the practical training and the benefit of learning from anywhere in the world.
Benefits of Learning from ITTCD
100% placement and internship assistance
Get 15 international certificates from ( Google, Bing, Hubspot, etc)
Get trained from a trainer with the experience of 10 years in this industry
Lifetime support and free demo class
Location: Laxmi Nagar, Delhi
Training mode: Both online and offline available
Fees structure: Rs.21,000 only
Contact us: 9971050903
Duration: 3 months
DSOM ( Dehradun School of Online Marketing)
DSOM is on 2nd no in our list of Top 5 Digital Marketing Courses in Uttarakhand. In this institute, you can take 2 demo classes and can sit in any running class for a live experience. This institute is located in Dehradun, Uttarakhand providing different types of courses like Digital Marketing, PHP Training. You can learn more than 100 modules of Digital Marketing from this institute. They provide backup classes, practical training, and job assistance. For more course-related queries you can contact them.
HASHTAG DIGITAL MARKETING ACADEMY
Hashtag Digital Marketing academy is also situated in Dehradun and is on 3rd no in our list of Top 5 Digital Marketing Courses in Uttarakhand. Established four years ago, it is now one of the top institutes in Dehradun, Uttarakhand. This institute focuses on students, job seekers, professionals, freelancers, and more. They have trained more than 1020 students so far and teach modules like SEO, SMM, PPC, and more. Their trainers have more than 17 years of experience in this industry which can be helpful for your career. For more information about course duration and fees, contact them.
DOONITE ACADEMY
Doonite Academy is on 4th no in our list of Top 5 Digital Marketing Courses in Uttarakhand and is here to provide advanced digital marketing courses with practical training by which you can learn to make an online presence and expand in this industry. All of their modules will be discussed thoroughly and how to use them. This institute course syllabus includes Digital Marketing, SEO, Logo designing, PPC, etc. You will get training from Google and Bing certified trainers and the use of more than 40 tools. You can learn more about them by contacting them.
ISPL ACADEMY
ISPL Academy is on 5th no. on our list of Top 5 Digital Marketing Courses in Uttarakhand. The trainers of this institute have huge experience in this industry. They have a different department where you will get all the internship and placement assistance. Modules that will be covered in this institute are SEO, PPC, SMM, etc. The course duration will be of 1.5 months with a free demo class. For more course-related queries, you can contact the institute.