Top 5 Digital Marketing Courses in Faridabad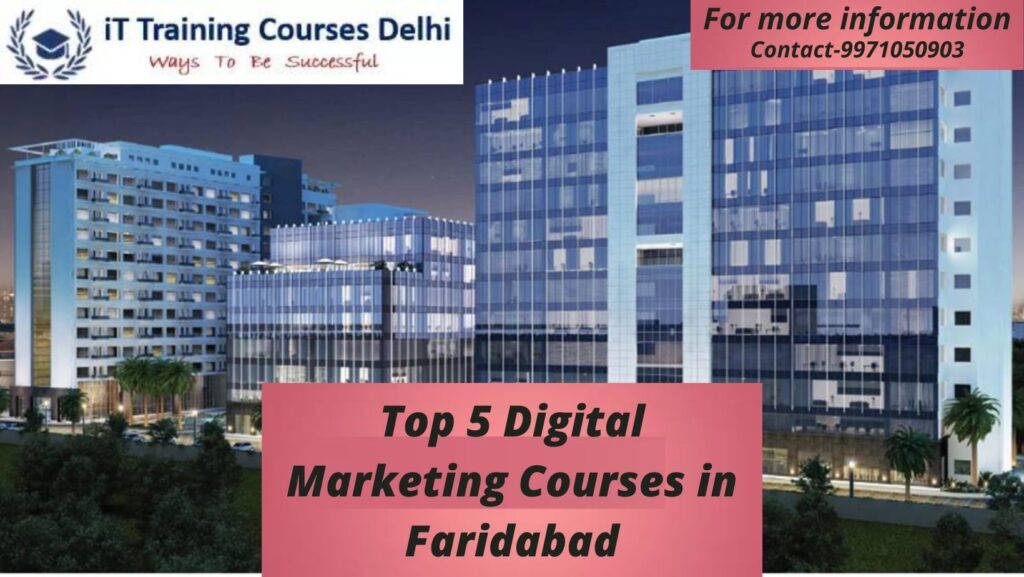 In this blog we will be discussing the top institutes in Faridabad where you can learn Digital Marketing. Here we have listed Top 5 Digital Marketing courses in Faridabad including the performance course duration of the institute. But before we start of this blog let us discuss the importance of Digital Marketing industry in Faridabad. It is situated in Delhi-NCR and is the industrial center of Haryana. In early days there has been a hike of Digital Marketing in this city. Several digital marketing courses are now being offered to people with little or no technical expertise due to the obvious lack of digital marketing experts. So here we are mentioning the top institutes in Faridabad providing best Digital Marketing courses.
ITTCD (IT Training Course Delhi)
The first institute which comes in our mind when we talk about Digital Marketing is ITTCD. This institute is on 1st no is our list of Top 5 Digital Marketing Courses in Faridabad. ITTCD is located in Laxmi Nagar, Delhi yet they have amazing craze of Digital marketing applicants in Faridabad. The reason for this is the online curriculum we provide on our institute which you can learn at the ease of your home. The founder and trainer Manish Kumar Singh has 10 years of experience in this industry and he focuses on giving quality and practical knowledge to his students. The fees structure is very affordable and you can secure high paying jobs after your training. We have trained more than 2500 students.
Placement and internship assistance
Location: Laxmi Nagar, Delhi
Training Mode: Online and Offline
Fees structure: 21,000
Contact: 9971050903
Modules and certification: 48 Modules and 15 google certificates
DIGITALKAL
Digitalkal is a Digital Marketing training company. It is on 2nd no in our list of Top 5 Digital Marketing courses in Faridabad. The headquarters of this institute is in Delhi NCR and the training program is also presented in other cities like Chandigarh, UP, Haryana, and more. With the experience of over 20 + years, you can learn Digital Marketing courses in-depth with modules like SEO, SMM, PPC, etc. The course duration will be of 2 months where you will learn basic to advanced Digital Marketing courses, interview preparation. To learn more about their fees structure you can contact them.
DREAMER INFOTECH
Dreamer Infotech is on no 3rd in our list Top 5 Digital Marketing courses in Faridabad. In this institute, you can have access to both online and offline training methods. They have a team of an experienced trainer in web development and other different IT courses including Digital Marketing. You also get one-year learning support after your training with certifications and placement assistance. For more queries about this course contact them to learn more.
DIGITAL SCHOOL OF DELHI
Digital School of Delhi is on no 4th in our list of Top 5 Digital Marketing Courses in Faridabad. This institute was incorporated in 2016 and they work hard to provide the best training to their students and make them stand out from the rest. In addition to Digital Marketing, they also offer courses in app development, website development, and more. They have faculty of trainers with experience of more than 15 years, provide 100% placement assistance, both practical and theoretical knowledge during training. You can learn more about this institute by contacting them.
WEBHELPY TECHNOLOGY
Webhelpy technology is on no 5th in our list of Top 5 Digital Marketing Courses in Faridabad. They have a very career-oriented digital marketing curriculum. They have more digital marketing-related courses like Website designing, SEO, SMO, Google Adwords, etc. In this institute, you get 100% placement and this course is suitable for all types of people be it job seekers, students, housewives, or an entrepreneur. The course is of 3 months duration and additionally, you will be prepared for Google Adsense and google certification. To learn more about this course you can visit their website or contact them.