Top 5 Digital Marketing Courses in Bihar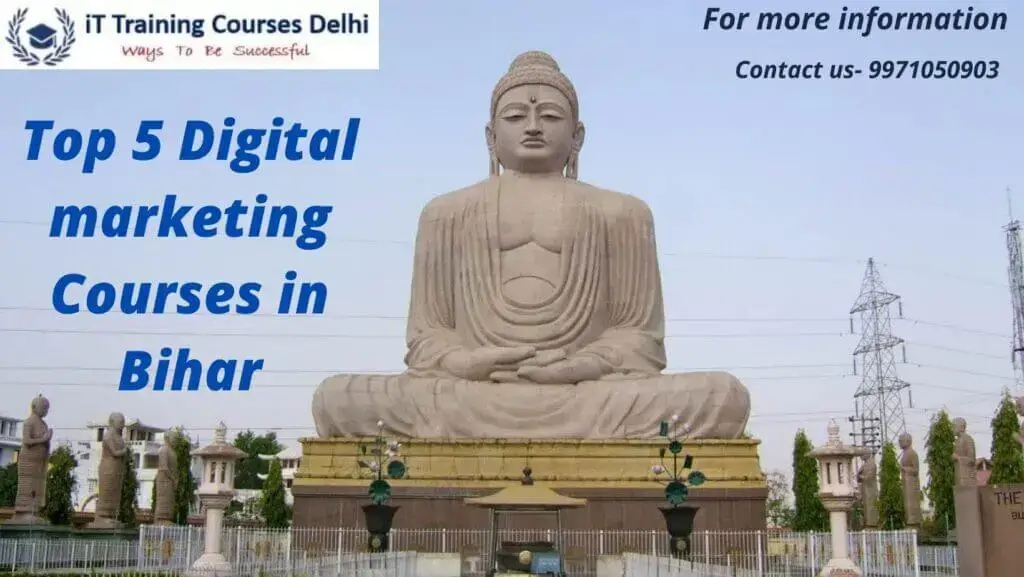 Digital Marketing is defined as promoting brands, products, or services to prospective customers via the internet or other forms of communication. This includes email, social media channels, websites, multimedia messages, etc. This trend of online promotion has started to shake the marketing industry. Even small companies nowadays adopt digital marketing strategies as it generates positive results in less time. The top 5 digital marketing courses in Bihar have become trendy career options for people.
When we talk of the top 5 Digital Marketing courses in Bihar, we can observe that a lot of institutes teach the following key modules:
Search Engine Optimization ( SEO)
Social Media Optimization (SMO)
Pay Per Click (PPC)
Lead and Traffic Generation
Google Adds
Let us dive into the list of the Top 5 institutes in Bihar that cater to the needs of Digital Marketing aspirants.
ITTCD (IT Training Course Delhi)- Delhi
The first Institute that comes to our mind in the list of Top 5 Digital Marketing courses in Bihar list is ITTCD Delhi. Although situated in Delhi, this Institute has a great craze among the Digital Marketing Aspirants in Bihar. The reason for the same is their online course curriculum, which has made the Bihar students glued to their laptops and get the complete training online, right at the comfort of their home. The founder Manish Kumar Singh has an experience of more than 10+ years in the Digital Marketing field. They have successfully trained more than 700 students from Bihar and made them job-ready. ITTCD Delhi course curriculum has 48 modules covering the digital marketing courses in Bihar such as PPC, SEO, SMO, SMM, etc.
Training Mode– Online and Offline
Fees– Rs.21,000 only
Modules– 48 modules covering topics like- SMM, SEO, PPC, Affiliate Marketing and more.
Certificates– Total 15 certificates will be provided after the completion of training.
Mobile No.- 9971050903
Internship and job placement assistance, Lifetime Support
Note– You can take classroom training in Laxmi Nagar, Delhi or you take online classes. Contact us for free demo class
ClickBYSEO- Anisabad, Patna
ClickBYSEO ranks second in the list of top 5 digital marketing courses in Bihar. Situated in Patna, this Institute has trained more than 150 students and made them job-ready in this Digital Marketing industry. Situated in Anisabad, ClickBYSEO believes in providing the students with all the facilities and top-quality training so that they don't need to venture out outside Bihar. They charge low fees and provide high value to the students. ClickBYSEO has both online and offline curriculum in place.
SEMSOLS Technologies- Mithapur, Patna
SEMSOLS ranks third in our list of top 5 Digital Marketing courses in Bihar. Situated close to the Mithapur Bus stand, this Institute has garnered massive popularity among the Digital Marketing aspirants in Patna. For the past 10 years, they have provided quality education and covered the top 5 digital Marketing Courses and modules such as SEO, PPC, SMO, ORM, Google Adds, etc. Their course is suitable for freshers, business people, entrepreneurs, housewives, Freelancers, etc. They cover 25+ modules, and the course duration is three months.
Patna Institute of Digital Marketing- Phulwari Sharif, Patna
Patna Institute of Digital Marketing (PDM) ranks fourth in the top 5 Digital Marketing Courses in Bihar. The trainer Anup Goswami has experience of more than 9 years in this field. This Institute covers 30+ modules in the Digital Marketing space. The classroom program
duration is of 16 weeks. They focus on providing practical knowledge to their prospective students with the help of live projects.
Proideators
The last Institute in our list among the top 5 Digital Marketing courses in Bihar is Proideators. This Institute's roots belong to the previous years passed out students from IIM and IIT. They have been in this field for the last few years and have started to shake the Digital Marketing training industry in Bihar. The entire course is via online mode covering more than 26 Digital Marketing Modules.